Phone charging solution for arenas
Don't let a low battery drain the excitement out of your events. Place Brick powerbank stations to keep the energy high!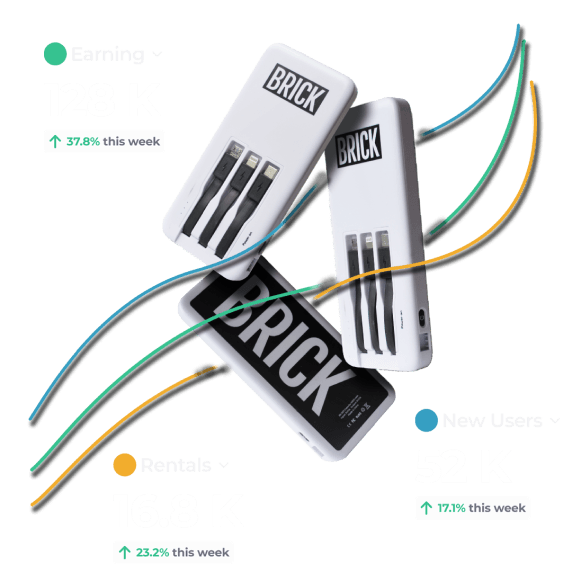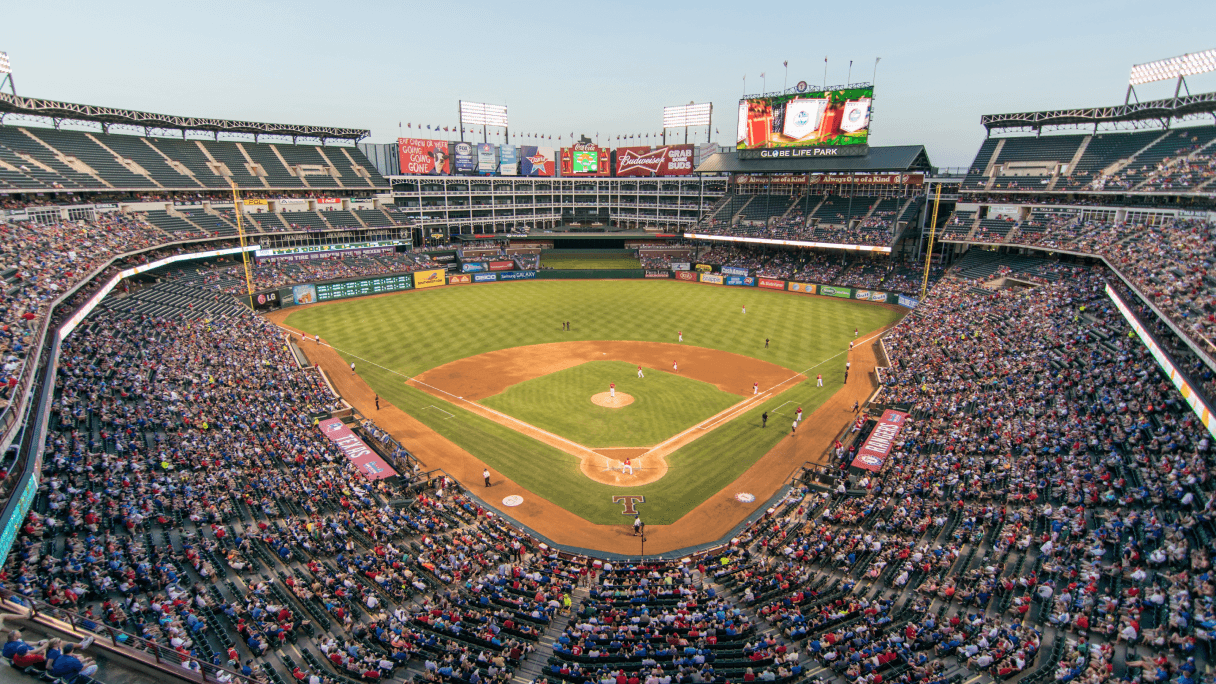 Join the world of Brick
People want to capture every moment to share with their loved ones or keep as a memory for themselves. Most phones have high-quality cameras that allow them to take stunning pictures or videos. By using their devices intensely, there is a chance of them running out of battery. Visitors don't want to leave the arena but want to document the event and need a fully charged device to safely plan their trip home. Brick powerbank stations allow your visitors to charge on the go and make the most out of their experience!
Event experience
Every moment deserves to be captured and shared. Visitors don't have to leave the arena to charge their device. They can just rent a Brick, charge their device and enjoy the event.
Safety & connectivity
Show your commitment to creating a comfortable and secure environment for your visitors by helping them stay connected before, during, and after an event.
Device adaptability
Our 3-in-1 powerbanks come with chargers available for Android, iPhone and Type-C. No one has to worry about running out of battery!
How to get started
Sparked your interest to get a Brick powerbank station? Awesome! Having a Brick station is completely free of charge, we handle all customer support, installation and maintenance when needed. Let's make it happen!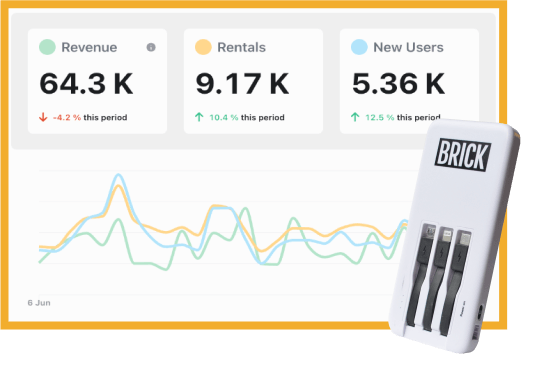 FAQs
What stations would you recommend for arenas?

Arenas or stadiums can accommodate a large number of people. We recommend a large 48-slot powerbank station to provide enough charging capacity to meet the ends of a large number of attendees, ensuring that they can stay connected throughout the event!
Where should I place a powerbank station?

Place the station in a location that is convenient and accessible for visitors. Think about strategic locations such as near entrances/exits, concession stands, waiting areas, restrooms, or VIP areas!
How does renting work?

The user can rent a powerbank by scanning the QR-code on the station by using the Brick app or webpage. A powerbank will be ejected with built-in cables for Android, iPhone, and Type-C. Once they're done charging, they can return the powerbank at any Brick powerbank station. They can charge their phone on-the-go, no need to be confined to a power outlet!
Who's responsible for customer support and maintenance?

We are! You don't have to worry about anything. Users can contact us through the app or webpage regarding any issue related to their powerbank rental. If you notice any irregularity regarding your powerbank station, get in touch with Brick and we'll sort the issue.
What happens after I order a station?

After placing your station order, Brick HQ will reach out to you to confirm your station order. We can launch anywhere within EU and North America!